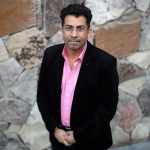 2019 Aurora Prize Laureate announced as…
Aurora honors the Yazidi activist for rescuing…
October 19, 2019 – Yerevan, Armenia – The fourth annual Aurora Prize for Awakening Humanity was awarded today to Mirza Dinnayi, Co-Founder and Director of Luftbrücke Irak (Air Bridge Iraq). Driven by his passion to save lives, the Yazidi activist has found a way to overcome numerous bureaucratic and logistic obstacles to help the most vulnerable members of the Yazidi community during numerous conflicts in Syria and Iraq. He was named the 2019 Aurora Laureate at the Ceremony in Yerevan that was held during the Aurora Forum. The Aurora Prize is granted by the Aurora Humanitarian Initiative on behalf of the survivors of the Armenian Genocide and in gratitude to their saviors.
Open »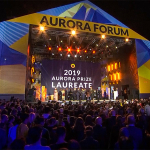 Inaugural Aurora Forum in Armenia a…
New international platform convened thought…
October 25, 2019 – Yerevan, Armenia – The first-ever Aurora Forum, which concluded in Armenia on October 21st, successfully brought together thousands to participate in events and discussions on some of the toughest challenges facing the world today. The series of events was praised by different audiences as a platform to establish Armenia's prominent role as a regional humanitarian, educational, technological, social and cultural hub.
Open »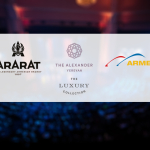 GENERAL SPONSORS OF THE INAUGURAL AURORA…
The Forum is thankful to its generous supporters:…
October 15, 2019 – Yerevan, Armenia – The Aurora Humanitarian Initiative and organizing partners of the inaugural Aurora Forum are pleased to announce that the Yerevan Brandy Company, Armenia TV and The Alexander, a Luxury Collection Hotel, Yerevan are the event's general sponsors. The Co-Founders are proud that such respected and well-known Armenian organizations have come on board to sponsor the Aurora Forum.
Open »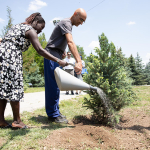 Commemorative Tree Planting Ceremony to Be…
Armenia Tree Project and Aurora Humanitarian…
October 2, 2019 – The Aurora Humanitarian Initiative and the Armenia Tree Project are glad to announce that a tree-planting event in Tsitsernakaberd will be organized during the inaugural Aurora Forum on October 20, 2019. A new grove of trees to be planted will be named after Aurora Mardiganian, one of the Armenian Genocide survivors remembered for her extraordinary resilience and generosity, in spite of the suffering she had faced, and being the inspiration behind the Aurora Prize for Awakening Humanity.
Open »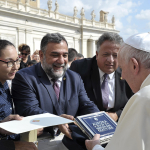 Aurora Humanitarian Initiative receives…
Vatican City, 2nd October 2019; Today, a delegation from the Aurora Humanitarian Initiative received a special blessing from His Holiness Pope Francis during their visit to the Vatican. The visit was part of a wider trip from the group to Rome, during which a series of meetings with Vatican and community leaders was held.
Open »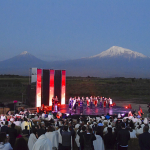 Gratitude in Action Takes Center Stage at…
Aurora Prize Ceremony and Aurora Tribute and…
September 27, 2019 – The Aurora Humanitarian Initiative announced that the Aurora Prize Ceremony to take place on October 19, 2019 will be open to the public. The Initiative also confirmed a tribute and fundraising concert featuring the Mariinsky Theatre Symphonic Orchestra conducted by Valery Gergiev to take place on October 20, 2019. Both events are part of the two-day #AraratChallenge Fest, a festival featuring inspiring public talks, lectures, master classes and charity initiatives to facilitate humanitarian action.
Open »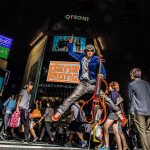 Aurora Forum Goodwill Ambassador and Two…
World-renowned musician, humanitarian to headline…
September 23, 2019 – Dana Leong, the world's top electric cellist and trombone player, will participate in the #AraratChallenge Fest to take place at the Freedom Square in Yerevan, Armenia on October 19 and 20, 2019, during the inaugural Aurora Forum. Aimed at inspiring a grassroot movement around humanitarian actions, the two-day festival combines culture and education, and features inspiring public talks, musical performances, discussions, lectures and masterclasses.
Open »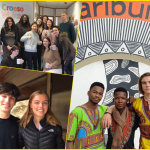 2019 Young Aurora: The Three Finalists
All three teams will present their projects…
It is our pleasure to announce that after a highly competitive process involving student-initiated projects from across UWC schools and colleges and the African Leadership Academy, the three project teams selected for the final stage are: Smokeless Kitchens from UWC East Africa, Precious Plastic from UWC Pearson College and Young Voices from UWC Atlantic College. We congratulate all three teams as they prepare to present their projects during the inaugural Aurora Forum in Armenia on October 18.
Open »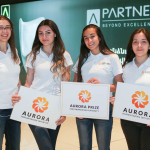 Volunteer Now to Take Part in the Inaugural…
Aurora Forum is calling for volunteers to…
Responsible and energetic individuals are welcomed to become part of a groundbreaking event and contribute to the international Aurora Forum, which will take place on October 14-21, 2019 and bring together change-makers of the world and global leaders to discuss and share knowledge on today's most advanced humanitarian and educational practices to further social, cultural, scientific, and technological transformation.
Open »
2019 AURORA PRIZE CEREMONY TO TAKE PLACE ON…
Restructured event will feature a special charity…
June 24, 2019 – The fourth Aurora Prize Ceremony will take place in Yerevan on October 20, 2019 and will be divided into a two-part ceremony, featuring the Aurora Prize itself and a concert by the remarkable Mariinsky Theatre Symphony Orchestra, conducted by Valery Gergiev. This unique global humanitarian Prize is awarded annually by the Aurora Humanitarian Initiative on behalf of the survivors of the Armenian Genocide and in gratitude to their saviors. The Ceremony will showcase Aurora Humanitarians – individuals who have done extraordinary work and had exceptional impact on human life by saving the desperate and abandoned and advancing the cause of humanitarianism in the face of adversity. One of these three Aurora Humanitarians will receive a $1 million grant to continue the cycle of giving by supporting the organizations they have chosen.
Open »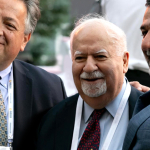 AURORA FORUM ORGANIZERS THANK GOODWILL…
Founders and organizers of the inaugural Aurora…
February 18, 2019, Yerevan - "The Aurora Forum is based on our belief that global Armenians and all global citizens who aspire to tackle the world's most pressing challenges can do so by embracing the best in humanitarian, educational and technological practices to make lasting advances in social, cultural and scientific spheres," said Noubar Afeyan, Co-Founder of the Aurora Forum. "We are thankful to the ambassadors from around the world who have already joined to make this initiative a success." "Through our numerous initiatives aimed at Armenia's successful development, we have assembled a large community of supporters and partners. We called for even wider participation and engagement through the 'Global Armenians Open Letter,' printed in New York Times October 28th, 2016," added Ruben Vardanyan, Co-Founder of the Aurora Forum.
Open »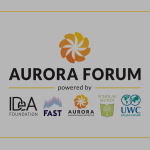 Armenia to Host an Ambitious International…
Inaugural Aurora Forum Positions Armenia as…
January 23, 2019, Yerevan. The first Aurora Forum will take place in Yerevan, Armenia on October 14-21, 2019. The Forum will bring together the world's leading authorities on social, scientific-technological, educational, and humanitarian innovation, marking the first program of its kind in the region. The weeklong series of activities will provide an opportunity for thought leaders to compare best practices, lessons learned and, in some cases, disruptive thinking around issues ranging from infrastructure challenges to healthcare breakthroughs to women's empowerment.
Open »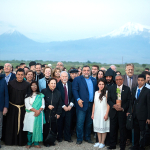 111 PROMINENT INDIVIDUALS FROM AROUND THE…
March 10, 2019 – The Aurora Forum is proud to announce that 111 influencers from political, academic, entertainment, and business sectors around the world have joined the Aurora Forum as Goodwill Ambassadors, showing their dedication to tackling some of our time's and future generation's most pressing global challenges. Aurora Forum Co-Founders Noubar Afeyan, Vartan Gregorian, and Ruben Vardanyan welcome the Goodwill Ambassadors as luminaries of Aurora's vision to promote innovative and effective approaches to advancing positive social change in Armenia and beyond.
Open »