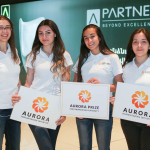 Volunteer Now to Take Part in the Inaugural…
Aurora Forum is calling for volunteers to…
Responsible and energetic individuals are welcomed to become part of a groundbreaking event and contribute to the international Aurora Forum, which will take place on October 14-21, 2019 and bring together change-makers of the world and global leaders to discuss and share knowledge on today's most advanced humanitarian and educational practices to further social, cultural, scientific, and technological transformation.
Open »
2019 AURORA PRIZE CEREMONY TO TAKE PLACE ON…
Restructured event will feature a special charity…
June 24, 2019 – The fourth Aurora Prize Ceremony will take place in Yerevan on October 20, 2019 and will be divided into a two-part ceremony, featuring the Aurora Prize itself and a concert by the remarkable Mariinsky Theatre Symphony Orchestra, conducted by Valery Gergiev. This unique global humanitarian Prize is awarded annually by the Aurora Humanitarian Initiative on behalf of the survivors of the Armenian Genocide and in gratitude to their saviors. The Ceremony will showcase Aurora Humanitarians – individuals who have done extraordinary work and had exceptional impact on human life by saving the desperate and abandoned and advancing the cause of humanitarianism in the face of adversity. One of these three Aurora Humanitarians will receive a $1 million grant to continue the cycle of giving by supporting the organizations they have chosen.
Open »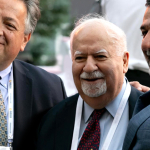 AURORA FORUM ORGANIZERS THANK GOODWILL…
Founders and organizers of the inaugural Aurora…
February 18, 2019, Yerevan - "The Aurora Forum is based on our belief that global Armenians and all global citizens who aspire to tackle the world's most pressing challenges can do so by embracing the best in humanitarian, educational and technological practices to make lasting advances in social, cultural and scientific spheres," said Noubar Afeyan, Co-Founder of the Aurora Forum. "We are thankful to the ambassadors from around the world who have already joined to make this initiative a success." "Through our numerous initiatives aimed at Armenia's successful development, we have assembled a large community of supporters and partners. We called for even wider participation and engagement through the 'Global Armenians Open Letter,' printed in New York Times October 28th, 2016," added Ruben Vardanyan, Co-Founder of the Aurora Forum.
Open »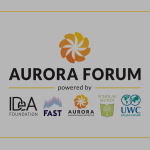 Armenia to Host an Ambitious International…
Inaugural Aurora Forum Positions Armenia as…
January 23, 2019, Yerevan. The first Aurora Forum will take place in Yerevan, Armenia on October 14-21, 2019. The Forum will bring together the world's leading authorities on social, scientific-technological, educational, and humanitarian innovation, marking the first program of its kind in the region. The weeklong series of activities will provide an opportunity for thought leaders to compare best practices, lessons learned and, in some cases, disruptive thinking around issues ranging from infrastructure challenges to healthcare breakthroughs to women's empowerment.
Open »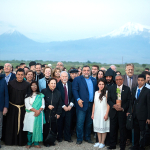 111 PROMINENT INDIVIDUALS FROM AROUND THE…
March 10, 2019 – The Aurora Forum is proud to announce that 111 influencers from political, academic, entertainment, and business sectors around the world have joined the Aurora Forum as Goodwill Ambassadors, showing their dedication to tackling some of our time's and future generation's most pressing global challenges. Aurora Forum Co-Founders Noubar Afeyan, Vartan Gregorian, and Ruben Vardanyan welcome the Goodwill Ambassadors as luminaries of Aurora's vision to promote innovative and effective approaches to advancing positive social change in Armenia and beyond.
Open »